I stopped by the Animal Hospital this week and nobody has gotten back to the vet. I don't actually know the going rate for the blood work and x-rays needed for the procedure, but that is not as imminent as I wish. The Dude has to go cold turkey on the drugs for a week and we need a full check up BEFORE that.
Aug. 9 or 16 are all we have. BUT it will be at 10!
In the lull, I have been up to my neck in dogs again. I am learning how to use my digital tablet so I can illustrate a children's book for YET ANOTHER charity. I have 3 or four of the 20 or so pictures done. Perfect way to kill time when there is nothing else to do . . . . .

But a bit of good work came my way.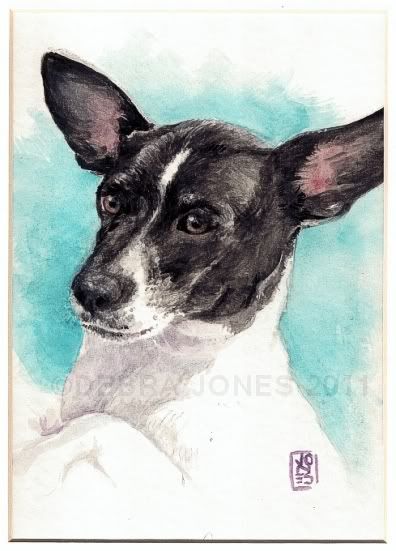 This is a memorial for a friend to give to a great woman who fostered this very ill Toy Fox Terrier through her final days. It is always warming to do any little bit.
If you want to donate to me, you know how to
click
. . . but if you prefer dogs - as you are very welcome to do - have a
click to the group
that helped this little lady.