When you go to the radiation therapy, you are asked to bring something of comfort of the cat that will be destroyed (because it will be radioactive!)
A bit oxymoron, as how hard it is to bring something beloved and comforting that will never be seen again. But this is a no-brainer.
The Dude has NEVER destroyed a stitch of fabric or furniture from his youth (socks - yes, sofas -no) because a sisal scratch post was all I ever got him. This particular configuration has always been a favorite, in fact this is his fourth one.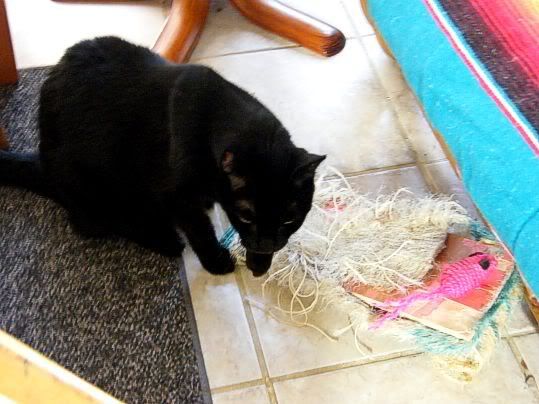 IF I find another in a pet store, it will be replaced. It has hung along looking worse and worse because I have NOT seen any. A new post-style has been donated by my boyfriend, but actually what the Dude loves is sprawling across it and scratching it while he reclines . . . What a slacker!