Well, nearly.
Tomorrow, with no need to sit and stare at him I am heading out on an overnight!
It is odd, leaving him alone, but honestly, just this week, I have been wondering if I had him a little over medicated. I swear, I can't tell you how happy he was looking this week.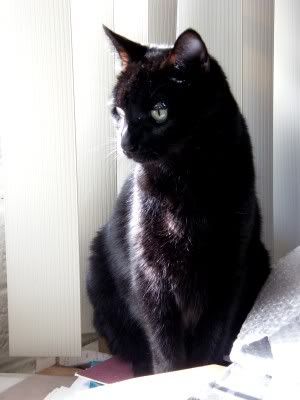 I do notice his back, behind his slightly bony hips is a bit greasy. It used to look like he couldn't groom back there. He would hate for me to pat back that far on his back, but when the meds kicked in, he was much more docile. Off meds he just seems spunky! He has been chasing my heels and talking up a storm! He asks for food, but doesn't seem unusually hungry or thirsty. He has been laying around but less sleepy! It is odd that making him sicker seems to have made him happier. He lolls around on his back, purrs like mad and has a much brighter personality than recently.
I am hoping that the act of being on medication, although it helps his health might actually not making everything so good . . . Like when I was a kid, I had allergies. The meds made me function, as in not sneezing on everyone, but I was seriously dopey! Like that!!
So we shall give a fuller report when I return to see what a couple of days have produced.
Wish us all luck!